Guernsey power station neighbours 'to be moved'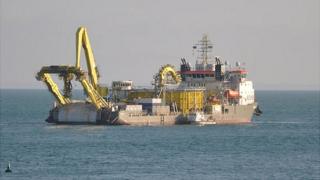 Some of those living closest to Guernsey's power station have been offered alternative accommodation while noise levels are temporarily high.
Repair work to the undersea cable between Guernsey and Jersey, expected to last for three or four weeks, means the generators are on constantly.
It follows complaints about the noise created by the generators, even after an acoustic barrier was installed.
Bob Beebe, from Guernsey Electricity, said it was "a goodwill gesture".
He said: "We have been working very closely with Environmental Health regarding overnight noise levels associated with our operations during the repair.
"When the cable is back in full operation we will significantly reduce the amount of work our diesel engines are doing, particularly at night.
"Until that time we feel that the right thing to do, under these exceptional circumstances, is to offer our very closest neighbours the option of staying in alternative accommodation temporarily."