Anger over Guernsey 'States-only' Liberation Day holiday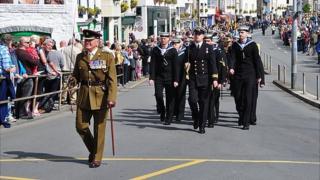 Guernsey States employees will get an extra day off for Liberation Day, while non-States workers miss out.
There was angry reaction to the announcement on BBC Guernsey's Facebook page, with one person accusing the States of "double standards".
The States confirmed the day off, after members voted last week against non-States workers getting a day off.
This year, Liberation Day, on 9 May, falls on a Saturday. States employees will be given a day in lieu.
The authority said the day off was due to a "long-standing policy" for civil servants, regarding public holidays falling on non-working days.
On 9 May 1945, the island was freed from five years of German occupation and in recent years, the day of the anniversary has fallen on a week day and has been a public holiday.
The States last week voted overwhelmingly against giving workers an extra day off in lieu of Liberation Day on Saturday, saying employers did not want to lose an extra working day.
But the States said its employees were entitled to the extra day-off, due to a long standing directive.
On Facebook, Ava Schiavetta called it a "disgrace".
Peter Brehaut said: "Well as a tax payer like many others we pay their wages in the long run. Talk about double standards."
Neil Archer said: "Surely the bottom line is that any employer that values their staff enough will do the same as the Civil Service has done - although there will no doubt be a few smaller employers that may find it too costly sadly."
No-one from the States was available for comment.