Guernsey father urges cancer drug ban rethink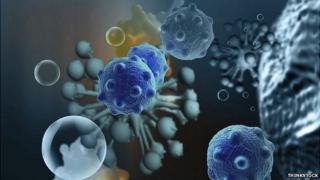 The father of a woman who died from cancer has called for a ban on an unlicensed treatment to be repealed.
Barry Paint, whose daughter used the GcMAF drug for a short time before she died aged 44 last September, said it gave hope to victims and families.
Guernsey authorities banned imports of the product after a health warning from the UK Medicine and Healthcare Products Regulatory Agency (MHRA).
The island's chief pharmacist said it was banned for patients' safety.
Blood plasma
Mr Paint said his daughter, who was diagnosed with breast cancer at the age of 35, had used the drug for six weeks before she died.
He said: "It didn't work, but it gave us hope and if there is you hope you take it. I would never forgive myself if I hadn't tried it.
"If they can find an acceptable source then they should be allowed to do that."
The island's health department raised concerns about the drug with the MHRA in December.
Blood plasma that should "not to be administered to humans" was used to create GcMAF at a factory in Cambridgeshire, the MHRA found during an unannounced inspection.
Ed Freestone, Guernsey's chief pharmacist, said: "Our key objective has always been and remains protection of patients."