Bank scam costs Guernsey islanders £200,000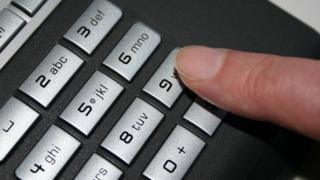 Guernsey islanders have lost more than £200,000 since Christmas through a bank scam, say police.
Officers said they are receiving about three reports a week of the attempted scams, called "vishing".
The losses to "several people" amounted to between a few hundred pounds to tens of thousands of pounds, said the Guernsey force.
It has urged islanders to be more suspicious of callers and give out no personal information.
Scammers urge victims to call their bank about money being taken from their account.
But they then intercept the call and persuade the victim to transfer money into a "safe" account, which the fraudsters empty.
One victim, who did not want to be identified, said: "I received a call to say that someone had tried to use my card on the internet to purchase goods that cost £900.
After calling the bank's number she was told there was an investigation into her account and she should put £10,000 into a "safe" account.
---
How to avoid vishing scams
Never hand over your bank card, your PIN, card details or online/telephone banking log-in credentials
If you receive a call asking for your PIN, card details or online/telephone banking log-in credentials, end the call immediately
With any suspicious or unexpected call, always verify the caller using an independently-checked telephone number and use a different phone line (where possible).
Source: RBS
---
"The man on the phone was jovial and pleasant," the victim continued.
"It wasn't until it was all over and done with that I thought there's something not quite right here.
"I got in contact with the bank and they confirmed it was a scam."
Nigel Henagan of Guernsey Financial Investigations Unit, said the chances of victims getting their money back depended on how quickly they contacted their bank and the bank's policies.
One victim had been told by their bank it would not refund the money because they had given out their bank details.
"If you react within an hour there is a better chance," he said.
"Once it goes into the scammers' account it is spread into many other accounts and then it's nigh on impossible to trace."
Andy Goodall, Guernsey Police's crime reduction advisor, said: "People are generally far too trusting.
"We need to change people's mindset so that if scammers call asking for personal information of any sort it is not given away."