Move to overturn paid parking fails in Guernsey States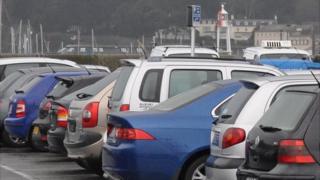 An attempt to stop the introduction of paid parking in Guernsey's main retail and office centre has failed.
More than 6,000 islanders signed a petition against the move, which will see it cost more than £1,000 a year for long-stay parking St Peter Port.
Some politicians raised concerns the loss of the revenue from the fees could cause issues for the States transport strategy.
A tied vote of 21 each way meant the motion lost.
It was the same result for a proposal that no taxes or charges should be introduced for those employees whose employers provide parking spaces.
A separate attempt to put conditions on the introduction of paid parking is due to be discussed on Friday.
If approved this would mean charging for parking would have to be approved by the States on the basis that:
Arrangements for a benefit in kind or workplace parking levy for employees provided with a parking space would need to be in place
A "free, robust, sustainable, viable, extended, decent and enhanced bus service" in operation has been operating for at least six months