Guernsey paid parking fee to be annual charge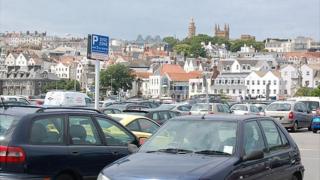 Islanders will have to pay an annual fee to park vehicles in Guernsey's public car parks.
A system of paying 60p an hour for long-stay parking in St Peter Port had been due to start in the autumn, but the States decided to replace it.
Details of the fee, between £30 and £50, for an annual clock for both short and long-stay parking still need to be worked out.
The 28-16 vote follows a failed attempt to throw out paid parking on Thursday.
Currently public car parks across the island are free, although the time spent in a space is limited and the time of arrival must be displayed.
The money raised from paid parking is part of the funding for the States transport strategy, which includes making buses free for an 18-month trial, a bus depot and improvements to pedestrian and cycling facilities.
Another method of funding, a duty based on the width and CO2 emissions of vehicles, was previously removed from the strategy.
Environment Minister Yvonne Burford said the assembly had decided "to go with the status quo of the traffic situation and saturation on this island and this assembly has confirmed its desire... to do nothing whatsoever at all about it - what a lack of vision".