Guernsey parking: States 'deserve trophy for indecision'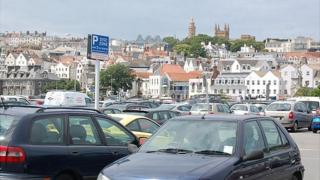 Guernsey States deserves a trophy for being "the most indecisive" over a parking charge row, deputy Barry Brehaut has said.
Members adopted an annual charge for parking discs in place of charging for long stay places in St Peter Port, during a debate on Friday.
Islanders will have to pay the annual fee to park in public car parks.
But, Guernsey's longest-running deputy, Mary Lowe, said the debate showed the States at its best.
A system of paying 60p an hour for long-stay parking in St Peter Port had been due to start in the autumn, but the States decided to replace it.
Flip-flopping denied
Deputy Brehaut said the rejected strategy would have decreased the number of cars coming into St Peter Port.
He said: "I'm disappointed that States members showed so little courage.
"We will have a type of paid parking but it will be diluted to the point where it's ineffectual."
Deputy Lowe said: "They have thrown out paid parking and that's a good result because this is fair to everybody."
She denied accusations of "flip-flopping" over the issue and said the change of heart by States members was proof they were making judgments based on evidence heard.
Public car parks are currently free across the island but the time spent in a space is limited.
The money raised will partly fund the States transport strategy, which includes making buses free for an 18-month trial, a bus depot and improvements to pedestrian and cycling facilities.