Plans for Guernsey Market Square donkey statue submitted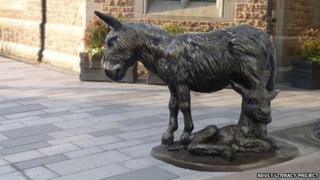 A life-sized statue of a donkey could be placed in Guernsey's Market Square if plans are given the go-ahead.
The artwork has been commissioned by The Guernsey Adult Literacy Project and features a 1.2m (4ft) bronze donkey statue with a foal at her feet.
Trevor Wakefield, the man behind the application, says he hopes the statue will become a Guernsey icon if it is placed in St Peter Port.
It will be funded by private donations collected by the project.
Mr Wakefield said: "There is a very strong association with the Guernsey donkey and when we had the donkey parade I met lots of visitors and they asked 'why donkeys?'
"I had to explain it to them, it is part of the culture and I hope it becomes a bit of an icon."
A consultation on the two-year statue project ends on 13 March.