Guernsey cows invade woman's home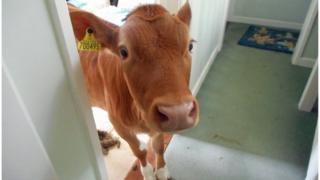 A Guernsey woman has spoken of her shock at finding two of her pet cows wandering around her house.
Pat Costen keeps the traditional island-bred cows in her garden and keeps her doors locked.
But after forgetting to lock a door, two cows made their way inside and left a trail of deposits in their wake.
She said: "I was in the shower and when I came out I could smell something. I looked over the banister and there was large cow pat."
The cows are part of a conservation herd bred to protect some of Guernsey's grasslands.
Ms Costen, from La Societe Guernesiaise, which protects island traditions, said: "They came in through the kitchen, along the corridor, round the snooker table and into the study where they scattered a pile of my papers.
"Then they made their way back along the corridor and into the small TV room where we found them."
Cleaning up "wasn't too difficult", she said.
"I just let their prints dry and vacuumed them up and sprayed, sprayed just everywhere."
And she has already forgiven them.
"They were just naughty boys and they were just inquisitive. They are lovely."