Guernsey power station neighbours could be rehoused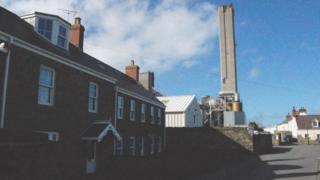 People affected by noise from Guernsey Electricity's power station may be rehoused.
The nearest neighbours were offered accommodation while the generators were running during a four-week repair to the undersea cable in January.
Now, after campaigning from Vale deputies, the Policy Council has agreed to investigate the options for permanently rehousing residents.
Vale Deputy Mary Lowe said she was pleased by the support of ministers.
She said: "This has been going on now for nearly two years, it's affecting the neighbours every day of the week, there's no break at weekends or during the evenings."
A Policy Council spokeswoman said: "[Members] have agreed to investigate what options there might be for rehousing those residents affected by the noise from the Guernsey Electricity power station."
The company has made a number of changes to its site over the past two years in attempts to reduce the noise.
In a statement, it said prior to 2000 the power station ran 24 hours a day, but with the commissioning of the undersea cable to Jersey and on to France it "ran less often, but still ran for considerable periods over the winter".
Faults with the cable in the past three years have meant more use of the on-island generators.
Guernsey Electricity said normally the generators would not be run overnight.
It said after initial problems its newest generator, installed in 2012, was the quietest engine in its fleet and "produces almost no vibrations" and Environmental Health had requested it should be the first to be used as it is the quietest.