Small Guernsey recycling banks to close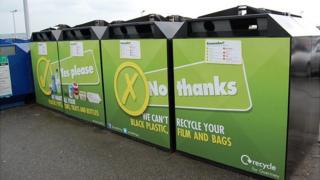 Smaller recycling centres will close in Guernsey following the introduction of kerbside recycling.
Out of 57 sites, only the eight larger "supersites", which account for about 90% of material collected, will remain.
Ten others will become glass only sites as jars and glass bottles are not collected through the kerbside scheme, which was introduced in March 2014.
Recycling officer Tina Norman-Ross said it followed falling usage and the move should save £25,000 in its first year.
She said that estimate did not include any money that would have been needed to be spent on maintenance, refurbishments and replacing bins.
Mrs Norman-Ross said: "The majority of sites we are closing or looking to convert are little used, and in a lot of cases little known.
"The amount collected from them has also fallen sharply, and in most cases there are alternative facilities nearby. Maintaining them all is no longer sensible financially."
The main "supersites" are at Chouet, L'Eree, Longfrie, Manor Stores, Rohais, Salerie Corner, Vazon, and Southside.