Guernsey company says 33 jobs at risk in warehouse move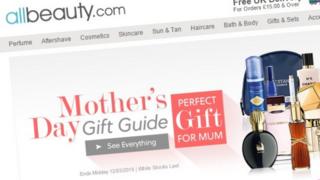 Up to 33 jobs could be at risk at a Guernsey-based online beauty retailer as it plans to move its warehouse operations to the UK.
Allbeauty.com says it is currently consulting staff and will try to move them to another part of the business where possible.
The company says it is making the move "to meet its UK customers' expectations for shorter delivery times".
The business has been operating in Guernsey for 11 years.
The company says that in 2014 it sold 2.6 million items through its website, shipped from Guernsey.
Operations director Janice Mancini said customers expected a same-day delivery.
She said: "As a locally owned company established and managed from Guernsey we remain committed to the island but to continue to grow the business we believe that regretfully we have to move our warehouse operation to the UK."
The company's head office and the Smith Street Shop in St Peter Port will be unaffected.