Deputy Garry Collins calls for Guernsey sport control switch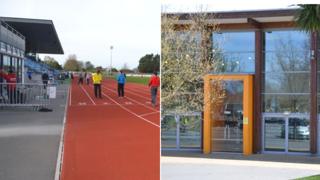 More people would use Guernsey's sport facilities if the island's Education Department took responsibility for them, it has been claimed.
Deputy Garry Collins, who is also a Commonwealth Games bowler, said the move would also reduce running costs.
But Culture and Leisure minister Deputy Mike O'Hara said the education department lacks the expertise to run sporting facilities.
He said venues like Footes Lane and Beau Sejour need specialist staff.
Deputy Collins, a member of the Commerce and Employment Department board, said the Education Department already used the facilities.
He said: "It's more than likely there are staff on shift at Beau Sejour that could fulfil that duty and therefore reduce the costs involved."
Guernsey's Education Minister, Robert Sillars, said he would be happy for his department to take on responsibility for sport in the island.
He said this would depend on the outcome of a forthcoming review of its governance.
Neighbouring island Jersey is currently moving control of sport away from its education department over to its economic development department.
It already has responsibility for tourism, gambling and transport links.