New Guernsey fisheries vessel '18-month wait'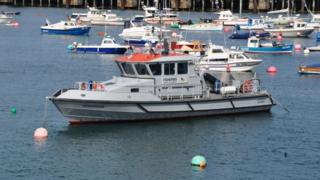 Officials have warned of an 18-month wait for a new fisheries protection vessel for Guernsey.
The current boat, the Leopardess, is coming towards the end of its 20-year life and in September the States agreed to prioritise a replacement.
Subject to approval in June, the new vessel will be used for immigration border control and seabed surveying as well as fisheries protection.
The cost of the new boat is currently unknown.
In September, the Commerce and Employment Department said the Leopardess had approached the end of its working life and was too expensive to maintain.
Chris Morris, senior sea fisheries officer, said: "There weren't many ship yards interested in building a one-off boat because it was very expensive to build one vessel.
"We're looking at the Dutch company who produced the Leopardess for a replacement."
The new boat could also be used for medical emergencies as a back up to the The Flying Christine III marine ambulance.