Guernsey black bag waste drops by 8%, States reports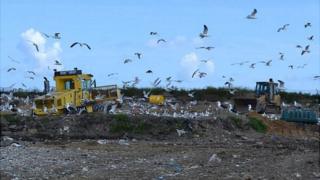 Guernsey's public services minister has described an 8% drop in black bag waste during kerbside recycling trials as "a success".
According to the latest States figures on kerbside recycling, the amount of black bag waste sent to Mont Cuet has dropped by 950 tonnes.
This is in comparison to when the trial started in March last year.
Deputy Scott Ogier said the plan to deal with the island's waste was heading in the right direction.
Mr Ogier said: "In just over 10 years, the proportion of household material being recycled has gone from less than 20% to more than 45%. That is something that we can all be very proud of."
Nearly 470 tonnes of additional materials have been recycled in the first full year of kerbside collections, the States of Guernsey reported.