Air crash toxic soil is removed from Guernsey field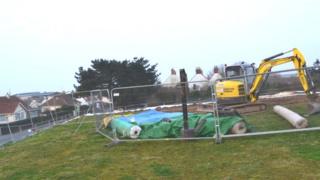 Work to remove toxic soil from fields in Guernsey to protect the water supply has started.
Perfluorooctane sulfonic acid (PFOS) was previously used by the airport fire service and has been found in the soil in fields near the Forest Road.
The soil was contaminated following a fatal plane crash in 1999.
The decision to remove the soil, costing about £280,000, was taken after traces of the substance were found in ground water at the site.
Clean soil was removed from an earth bank at the airport to make way for the contaminated soil which was then sealed in the bank.
Airport Director Colin Le Ray said work would be completed in April but it was a short-term solution.
He said: "[For] the longer-term solution we are still working with scientists. There is an emerging technology in Australia that could help."