Citywing airline could take on Alderney route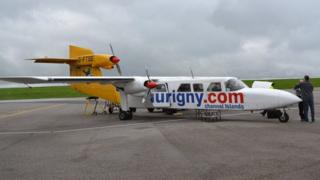 A new airline could take over from Aurigny on the Alderney to Guernsey route, according to a leaked report.
The proposal, presented to the Alderney policy and finance committee, would give airline Citywing a five year exclusive deal.
It is offering to run two LET 410 aircraft on scheduled daily flights to Guernsey and Southampton.
Aurigny CEO, Mark Darby, said he had never been invited to discuss the CityWing proposal with the States.
He said: "Letting the BBC have sight of a bid document to run an Alderney based passenger service is an unusual way to go public on this."
Alderney's policy and finance committee commissioned the report in 2014 after a series of delays on flights into the island by Aurigny.
Neil Harvey, chairman of the committee, said no decision had been made as it had not been discussed by the States as a whole.
He said the island was also in talks with Aurigny, which is owned by the States of Guernsey, over securing a service agreement.
If the CityWings proposal was approved in Alderney there would still be other issues, according to Mr Harvey.
He said: "The role of the States of Alderney is fairly significant in the report as the States would suffer the costs of any flights delayed or cancelled due to weather conditions."
Currently, Aurigny provide the Alderney service and any new bidder would have to secure an Air Transport Licensing agreement from the States of Guernsey.