Sark Electricity 'left in the dark' over cable plans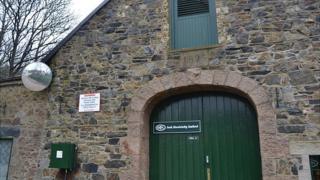 Plans to install an undersea cable to secure Sark's electricity supply have been "ill-thought out", according to the director of Sark Electricity.
The company, which would also be nationalised under the plans, provides power via four diesel generators.
David Gordon-Brown said he had been "left in the dark" and hoped Chief Pleas would meet him.
Conseiller Hazel Fry said Mr Gordon-Brown had been involved in talks since 2010, including a meeting last month.
Mr Gordon-Brown said he had "a number of" financial and political concerns about the plans, which "could endanger the island more than secure it".
He said he did not want to air them in public but meet with Chief Pleas to discuss them.
'Highest in the world'
Mr Gordon-Brown said: "The company has been serving the island for 65 years and we are disappointed with how they [Chief Pleas] treated the company.
"Although we have agreed to sell the company to them they now have decided not to discuss their plan in any form."
He would welcome a cable "if we can make it happen without causing the price to go up".
Mrs Fry said in a statement: "David Gordon-Brown charges his customers on Sark 59p per unit. He continues to refuse to divulge any information that would give transparency to justify this price - possibly the highest in the world.
"Mr Gordon-Brown has acknowledged to the team, and again at residents' meetings this week, that our expert advisors are the best in the field. Sark Government is using these advisors to make its future plans."
The island's future electricity costs were raised in a survey of the island's residents carried out in 2012.
Cables between Guernsey and Jersey and on to France allow the islands to import electricity from mainland Europe, which is mostly nuclear and renewable power while on-island power is generated by burning fossil fuels.
Alan Bates, chief executive of Guernsey Electricity, said his company worked with Chief Pleas on drawing up the plan for Sark.
He said: "Installing a cable link to Sark would be a technical challenge, but Chief Pleas believe that Sark would benefit from a more reliable supply.
"Importing energy [into Guernsey] has, over the long term, been less expensive than importing oil and generating on-island."
Mr Bates said there were currently no plans for undersea power cables to the other main Channel Islands of Alderney and Herm, but it could be considered in future if there was a call for it.