Guernsey-Alderney finance review 'to take a year'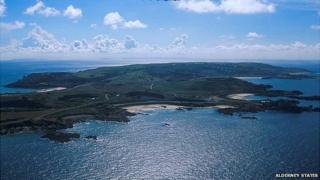 A review aimed at modernising Alderney's financial relationship with Guernsey is due to take a year.
It follows concerns over the way public services in Alderney will be funded in the future.
The review involves measuring all the islands' public costs and revenue, including Guernsey States-owned airline Aurigny.
Guernsey's Deputy Chief Minister Allister Langlois said there was "a great deal of work to do".
He said initial work would involve gathering primary financial data, "much of which has not been available to date".
"Given the significant challenges facing Alderney at this time, this review has never been more timely or more important," he added.
It is not clear at present how much is spent on services and how much government revenue is generated.
Guernsey States is responsible for making decisions about a number of services, including health, criminal legislation and policing.
Two members of the States of Alderney represent the island in Guernsey's parliament.
The current arrangements stem from the 1948 agreement, which was drawn up after a large population drop blamed on World War Two.
It was suggested by the UK Home Office in a bid to solve economic problems caused drop in numbers.
Those residents who stayed in Alderney were removed by German forces that occupied the Channel Islands, and set up four labour camps in the island, including the only concentration camp on British soil.