Condor Liberation: Ferry back in service after crash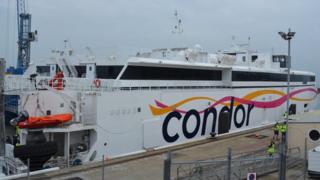 A £50m ferry that was damaged in high winds on its second day in service has been repaired and is back in operation.
Condor Liberation - which sails between Poole in Dorset and the Channel Islands - struck the quayside at St Peter Port, Guernsey.
The vessel, which is meant to be more resistant to heavy seas, has been out of service for repairs since the crash on 28 March.
An investigation is continuing into the accident.
While the ferry was out of service, the MV Arrow was brought in to carry freight while the Commodore Clipper and the Condor Express carried passengers.