Alderney surgery raid: Health services 'business as usual'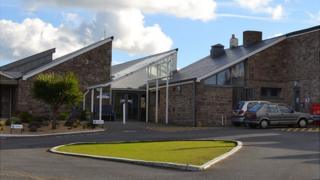 It is "business as usual" for health services in Alderney despite an ongoing police investigation, according to the civil servant in charge.
On Thursday, police raided one of the island's two GP practices and removed computers and medical records.
It was part of an investigation into the deaths of four islanders.
Dr Carol Tozer, Health and Social Services Department (HSSD) chief officer, said staff "have shown tremendous resilience".
She said: "Our primary focus has been on people in Alderney concerned and affected by recent developments.
"Senior HSSD staff travelled to the island immediately and remained there over the Easter weekend and yesterday to offer support to members of the community, patients and indeed our own staff, who were clearly shocked to learn of Thursday's events."
Dr Tozer said anyone with concerns can contact staff at the Mignot Memorial Hospital on 822822.
Chief of Guernsey Police Patrick Rice said of the seizures: "I can confirm all medical records seized by officers related only to patients who have died."
No arrests have been made in connection with the investigation.
Guernsey's HSSD has responsibility for the health and well-being of the people of Alderney.
While GP practices in Alderney are privately run businesses, HSSD acts as the investigating authority for complaints involving its staff or incidents taking place in its facilities - including the island's 22-bed Mignot Memorial Hospital.
The Eagle Medical Practice, run by Dr Rory Lyons, has been closed since the raid.
The three GPs at the Island Medical Practice, the only other medical practice serving the island's population of 1,900, have agreed to see patients affected by the closure.