Monty's Rolls-Royce for Guernsey Liberation cavalcade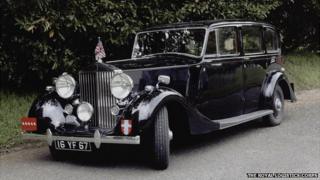 A car used by World War Two general Field Marshal Bernard Montgomery will lead a celebration for the 70th anniversary of Guernsey's liberation.
The 1939 Rolls-Royce Silver Wraith will head a cavalcade of more than 130 period vehicles on 9 May.
The vehicles will go down the eastern coast at approximately 14:00 BST before reaching St Peter Port at about 14:30.
The Channel Islands were occupied by German forces during World War Two from June 1940 until May 1945.
When it goes through St Peter Port the cavalcade will include the serving members of the armed forces, veterans, the Guernsey Majorettes, Guernsey Scout Band, Boys Brigade Band and handcrafted floats.
The staff car was used by Montgomery throughout his campaigning in Europe - he is reported to have hoped the car would show the Allies were here to stay.
"It was brought ashore as he hoped the Rolls-Royce would impress other Allied commanders and also help install the belief the Allies had arrived to stay," said Lt Col Paul Holder, from the Royal Logistics Corps and the Master of The Worshipful Company of Carmen.
---
Monty's Roller
Originally ordered for actress Madeline Carroll in April 1939
The Ministry of War bought it in 1944 and assigned it to Field Marshal Montgomery
The vehicle was the first civilian vehicle ashore during the Normandy Landings - at Juno Beach just three days after D‐Day
After the war it stayed with Montgomery as he served as commander of the British Army of the Rhine and later in London as chief of the Imperial General Staff
It was then used by subsequent chiefs of the Imperial General Staff
Retired in 1964 it is currently displayed at the Royal Logistic Corps Museum at The Princess Royal Barracks in Deepcut, Surrey
---
The Worshipful Company of Carmen expects to contribute 30-35 vehicles to the parade.
Paul Bourgaize, who is responsible for organising the military vehicle element, said he was hopeful of getting 135 vehicles as a tribute to Force 135, the name given to the taskforce that freed the Channel Islands.
He said the number was "fluctuating" and it was not clear how many vehicles would be involved on the day.