St Peter Port Harbour project nears completion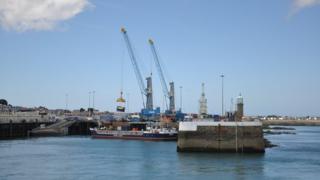 Work on the repair and refurbishment of freight-handling facilities at St Peter Port Harbour is nearing completion, Guernsey Harbour has confirmed.
The £13.7m project has involved the replacement of four old harbour cranes with two new ones.
Guernsey Harbour said work to reconfigure the port area would not result in any loss of parking.
About 200 car parking spaces which were lost at North Beach have been created elsewhere in the harbour area.
Harbourmaster Captain Chad Murray said: "These are lifeline services, which everyone in Guernsey relies upon.
"We could not function without the goods that come through St Peter Port, and the car ferry links that provide vital connections for tourism, leisure and business travel.
"However, we have long-standing issues in maintaining these essential port operations, with all the modern security and safety requirements, within the confined area we have."
About 99% of goods coming to or leaving Guernsey pass through the harbour.
St Peter Port handles more than 200,000 tonnes of freight a year, including all food imports, and more than 350,000 ferry passengers travelling to and from Jersey, the UK or France.