John Dodd jailed over £260k Guernsey ferry drugs haul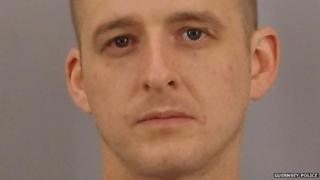 A man who helped import more than £260,000 worth of cocaine and cannabis resin to Guernsey has been jailed.
John Dodd, 31, was sentenced to 14 years in prison for his part in smuggling the drugs into the island in November.
The drugs were found hidden in a skip transferred between Portsmouth and the island on the Commodore Clipper ferry, Guernsey's Royal Court heard.
Dodd previously pleaded guilty to two counts of importation.
His role was described by his defence as a "look out" who exchanged emails and texts with other group members, who are yet to be traced.
A member of staff at Island Waste - which recycles and recovers waste instead of sending it to landfill - found the drugs when collecting the skip.
Dodd was sentenced to 14 years for his part in importing the class A drugs and eight years for the class B offences, which will run concurrently.