Guernsey's 'upside-down Lego brick' planters defended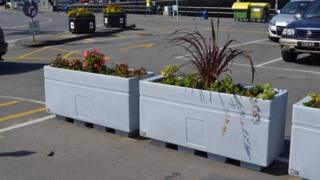 Rows of planters which have been branded "really ugly" and "a waste of money" have been defended by a States of Guernsey minister.
The grey planters separate the road and pedestrian route for cruise liner passengers arriving at the Albert Pier, in St Peter Port.
Residents have branded them "tacky" and have criticised the colour.
But, Deputy Scott Ogier said if people found them "so horrendous" they would be adjusted next season.
The States expects more than 130,000 people to arrive at the pier during the season.
Floral competition fears
Commerce and Employment Minister Deputy Kevin Stewart, who plans to make an official complaint, said: "They are really ugly planters. I also think they're the wrong colour."
Pat Johnson, from Floral Guernsey, which promotes island events, said: "I'm stunned. There were 18 colour choices, this is almost certainly the worst one.
He said that the planters "were something you wouldn't want to show the judges" of floral competitions.
Some people on the BBC Radio Guernsey Facebook page branded them "tacky", "a waste of money" and said they resembled "upside-down Lego bricks".
But, Deputy Ogier, Public Services Minister, said: "The colour was chosen to merge in with the backdrop of the harbour.
"The purpose is when people come ashore [from cruise liners] they'll see some beautiful plants and flowers.
"We're effectively talking about the colour of flower pots... it's a minor issue, but important."