Guernsey march: Hundreds demonstrate over public sector pensions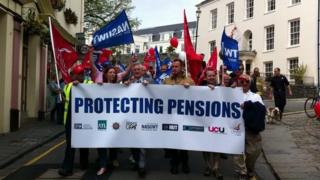 Hundreds of public sector employees have marched through Guernsey against proposed changes to States pensions.
The rally, in St Peter Port, was held ahead of a States meeting on Wednesday where members will be asked about taking court action.
About 1,000 people including the NASUWT, the NUT and Unite unions took part in the march from Candie Gardens at 11:30 BST to St James Concert Hall.
The proposals include increasing the pension age from 65 to 67.
Three and a half years of negotiations have failed to achieve a solution under a States effort to move employees from a final salary pension to a career average scheme.
Martin MacIntyre, from the Association of States Employees Organisations, said: "We want to get the message out to the public as to what is going on here and the misconceptions that have been portrayed.
"Ultimately we want to get the message to the 47 people who are going to be voting on this," he said.
Deputy Chief Minister Allister Langlois said it was a "terrible shame" islanders had been inconvenienced.
Later this month, the States will decide on whether to release funding of up to £500,000 to be spent in pursuing a legal resolution to the deadlock.
A Guernsey Police spokesman said 10 police officers were deployed for the march.