Guernsey waste export 'delayed until 2017'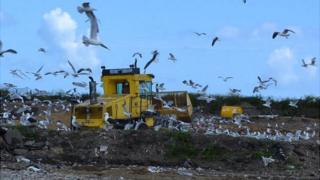 The export of Guernsey's waste will not now begin until 2017, the island's Public Services minister has said.
It was due to begin in 2016, as part of a strategy to reduce waste and maximum recycling, agreed in 2012.
Deputy Scott Ogier said: "Any delay is regrettable but it is imperative we make the right choices."
He said the island's waste would continue to be put into landfill at Mont Cuet, which had enough capacity for ongoing use.
"Export was expected to begin towards the end of 2016 - given where we are now in the procurement, we expect that to be sometime in 2017, or if we encounter any unforeseen circumstances, at the latest 2018."
He said his department was "committed to delivering a best value for money solution".
No decision has yet been made about where the island's waste will be exported to.
The infrastructure needed for export has yet to be built with only one tender remaining - after four were withdrawn.
Mr Ogier said he "remained confident" negotiations about the joint offer from States Works, Guernsey Recycling and building firm Geomarine would "achieve a successful outcome".
He said moves to encourage more recycling would continue in a bid to raise the rate from 49%, to meet the previously set targets of 60% by 2018 and 70% by 2025.