Guernsey estate agents closes amid 'housing crisis'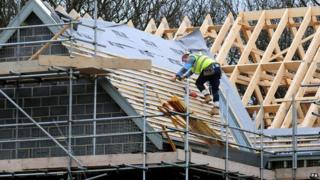 A Guernsey estate agents is closing because of a "downward trend" in sales caused by a "housing crisis", according to a local politician.
Deputy Mike Hadley said house prices are "very much too high" and are unaffordable for young professionals.
Last year, local market property sales in Guernsey were the lowest on record.
Chris Carr, from Inspired Estate Agents, said the market conditions were behind the decision to stop trading at the end of July.
He said: "From the middle of last year I don't think we've seen a week go by where we haven't had one of our clients call to ask we reduce the price of their house."
Another estate agents, Property Link, closed in January this year.
Guernsey resident, Andrea Dodd, has had her house on the market for about two years and reduced the price many times.
She said islanders are struggling to sell because "people aren't getting finance as easily and don't have the disposable income they used to".
However Richard Hardie, from Livingroom Estate Agents, said there "are too many estate agents in the island, people think it's an easy job but it isn't".
He said: "People who are pricing their houses realistically are selling, there are deals happening."
Last quarter, the average house price in Guernsey was £462,000.
Jim Roberts, Guernsey's chief housing officer, said: "There is a mismatch between prices continuing to rise and [property] transactions falling."
Deputy Hadley, who serves in the housing department, said the problem was due to "the private sector not building houses".
He said: "It's about time we had more land and money from the Treasury and Resources Department to build more houses and to create more shared ownership properties."