Eagle Medical Practice raid leaves Alderney 'without doctor'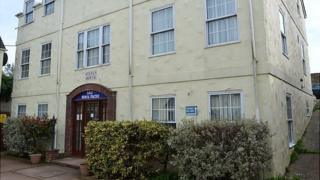 Residents in Alderney are not getting the medical care they need after a doctor was suspended while police investigate four deaths, a politician has said.
Dr Rory Lyons was suspended from practising after Guernsey police raided the Eagle Medical Practice on 2 April.
Alderney States member Louis Jean said some residents were calling for a locum or Dr Lyons' reinstatement.
Guernsey's health department said employing new staff was up to Dr Lyons.
Following the raid, three GPs at the Island Medical Practice, the only other surgery serving the island's population of 1,900, agreed to see Dr Lyons' patients.
Mr Jean said he would like a locum in place at Eagle Medical Practice so "patients can have their practice of choice and they can go there for their treatment".
He said Dr Lyons was having difficulties making such an appointment as he is "unable to brief, not able to do anything himself" and hoped the health authorities would step in.
A Health and Social Services Department (HSSD) spokesman said it understood the Island Medical Practice was "able to cope with the demand" and its own staff would visit the practice again next week.
The BBC's attempts to contact Dr Lyons for comment were unsuccessful.
Mr Jean said he would like the inquiry to be resolved quickly.
A spokesperson for Guernsey Police said they had engaged an independent medical expert to carry out a "complex" investigation as quickly as possible.