Guernsey specialist X-ray service resumes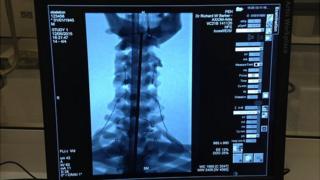 Guernsey patients will no longer have to routinely fly to the UK for specialist X-rays after the purchase of a £500,000 fluoroscopy X-ray machine.
The previous machine was taken out of service last August after it failed an inspection.
Since then 99 patients have been sent off-island for procedures such as barium X-rays, enemas or urinary system examinations.
The equipment is due to start being used on a normal schedule from 18 May.
A Health and Social Services Department (HSSD) spokesman said sending people off-island had cost the department "approximately £10,500".
He said the travel costs, which were about £160 per patient, were paid by the Social Security Department.
Dr Carol Tozer, chief officer, said: "The replacement of this piece of equipment had been a priority item on the department's radiology equipment replacement programme.
"We will now be focussed on ensuring that other equipment within that programme is procured and installed so that radiology services are provided as appropriate to our community."