Guernsey chief minister backs same-sex adoption law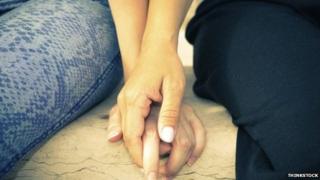 Guernsey adoption laws must be changed to allow same-sex couples to adopt children, the chief minister says.
The island's 50-year old adoption law currently bans all unmarried couples from adopting a child through the courts.
Deputy Jonathan Le Tocq said the island needed to recognise international changes in legislation.
In the past five years, 23 adoptive homes have been found for children, mostly with couples in Guernsey.
A small number of single women and no single men have adopted children in the island in the past five years.
'About fairness'
There is no provision for same sex marriage or civil partnerships in Guernsey, although Mr Le Tocq has proposed a new "union civile".
A proposal is also being put to the States next month that would allow couples in a civil partnership or other legally recognised relationships to adopt children in Guernsey.
Mr Le Tocq said: "It's about fairness really. The proposals will be a recognition of an enduring relationship between couples whether they are same sex or not."
Guernsey resident Oli, who is is hoping to adopt a child with his male partner, hopes changes to the island's adoption law will be a move towards greater equality.
He said: "I think it will add security to same sex couples on the island and encourage others who have left to return knowing they can raise a family here."