Pembroke Bay predicted to fail new water quality tests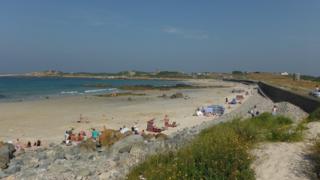 One of Guernsey's most popular beaches is predicted to fail new European Union standards for water quality.
Guernsey States said Pembroke Bay's results were projected to be poor, which was a "cause for concern".
Jan Dockerill, environmental services officer, says they are "working extremely hard to pin-point what the problem is".
She said it was believed the water was "safe to bathe in".
The EU Bathing Water Directive has been revised this year which, the UK Environment Agency has suggested, will make it much harder for beaches to attain the top "excellent" rating.
Ms Dockerill said that over the summer more detailed research will be carried out, including testing sea water in several places rather than at one single point.
The research, carried out by Environmental Health Department, States analysts and Guernsey Water, will also test bacteria levels in sediment, because sand "can hold bacteria for much longer than sea water can", she said.
She urged the public to assist in improving quality.
"Do not walk your dog, please, on Pembroke. If your dog does a deposit on the sand that bacteria level may well be picked up two hours later when we are testing the water" she said.
Signs will be going up at the beach showing the last four years' results.
"We have to be honest, it's very important", she added.