School closure plan 'no later than March 2016'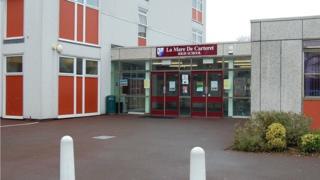 A £60m rebuild of Guernsey's La Mare de Carteret Schools could be put on hold until plans on secondary school closures are decided.
Politicians will debate a report on the redevelopment next week.
The treasury department wants to reduce the number of secondary schools to provide "value for money".
It is calling on the Education Department to provide clear plans on the future of these schools before any rebuilding starts.
The rebuild review found cutting the number of secondary schools was the only "viable" option to justify spending £60m on the redevelopment, which also includes La Mare de Carteret Primary School.
Earlier this week, deputies Elis Bebb and Mark Dorey laid an amendment calling for a delay in the plans to allow time for an investigation into the secondary school system.
'Showing disregard'
Next week, the treasury department will ask deputies to agree to the Education Department updating "the States by no later than March 2016" on how "rationalisation" to secondary schools will be achieved.
It wants the Education Department to consider building a larger 960-student school "from the outset" would be better value for money.
Les Beaucamps High School has called an emergency meeting for parents this week after treasury minister Gavin St Pier suggested its pupils could move to La Mare de Carteret School.
Head teacher of Les Beaucamps, Sophie Roughsedge, accused the minister of "showing disregard for children, parents and teachers".
The treasury also wants the States to agree that "sufficient funding" is set aside to "adequately maintain" La Mare schools until they are vacated.