La Mare school build dependent on 11 plus review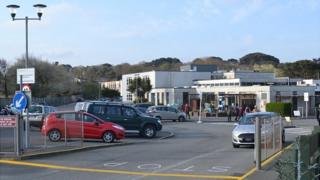 Any potential redevelopment of La Mare schools will only go ahead if decisions on the future of secondary education, including the 11 plus, are made.
Guernsey States reached the compromise after a split emerged between education's redevelopment plans and treasury's value for money concerns.
Tenders will be sought for secondary schools for 600 and 960 students.
But funding for the work will only be released if the States receives the secondary education report by March.
The compromise was put forward by the Education Department after a motion to put off any redevelopment until decisions on the future of secondary education are made was lost and treasury's proposals were withdrawn.
---
£60m project tenders
A five-form entry secondary school for up to 600 students that can be expanded to 960
An eight-form entry secondary school for up to 960 students
A two-form entry primary school for up to 420
A pre-school nursery for about 32 children, aged 3-4, attending part time
Autism centre for up to 18 primary pupils and 18 secondary students
Club level indoor facilities for netball, basketball and volleyball to be open to the community
---
The report, which will be produced by the Education Department, will look at the merits of selection at 11 and the optimal size, number and location of the island's secondary schools.
Its recommendations will include one option of reducing the number of States secondary schools from four to three and could potentially advise against the redevelopment at La Mare.
Deputy Matt Fallaize said there was "blame... right across the States" for the mess they had found themselves in and a compromise should have been reached sooner.
Deputy Lyndon Trott sounded a note of caution: "We cannot afford to mess around with this tender process in a way that gets us into an even bigger mess than we were arguably in."
Deputy Peter Sherbourne, an Education Department member, said: "We can look to the future, put the past behind us and provide something very, very special... I think this is the best solution we could probably have hoped for."
Education Minister Robert Sillars said if the States approved the work when it is debated again next year, the schools could still open in September 2018.