Scrapped Alderney ferry link with Guernsey reinstated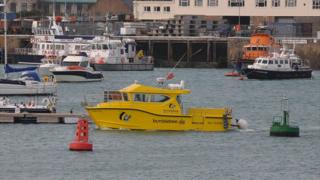 The ferry service between Alderney and Guernsey has been reinstated through a government subsidy, the States of Alderney has announced.
Ferry company Bumblebee Marine Ltd announced in February it was pulling out of the inter-island route, blaming a lack of government support for its expansion plans.
No other companies operate regular services on the route.
The Bumblebee boat will return in May for the summer season.
The reinstated service has been made possible through a government subsidy from Alderney's economic development fund, at a level described by the States as "modest".
'Vote of confidence'
The chairman of the States' policy and finance committee, Robert McDowall, said: "We are delighted to see the return of this important transport link for this summer.
"While this arrangement is for 2016 only, it will enable the States to consider an integrated transport policy (covering air and sea routes) and review all options for such services in the longer term."
Mr McDowall said it was the "best option" Alderney had to avoid any "further damage" to the island's tourist industry.
Bumblebee announced it would be pulling out of the route following a decision by Guernsey's government in November 2015 to reject its bid for a 140-seat fast ferry.
Alderney's States had approved the business case for the faster boat.
On the new arrangement, the managing director of Bumblebee Marine, Dan Meinke, said: "We are very pleased with this vote of confidence from the States of Alderney and happy that this will mean the revival of our excellent relationship with the island."
The ferry service linking Alderney and Guernsey will run from May until September 2016, with two day trips a week, and further sailings over Alderney Week, according to the island's States.