Guernsey-UK fishing deal suspension subject of judicial review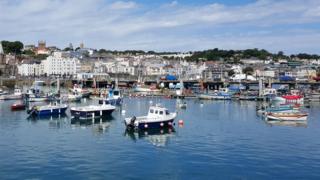 A UK government decision to suspend a fishing agreement with the Bailiwick of Guernsey will be the subject of a judicial review.
Fishermen from the islands were unable to fish in EU waters without the Fisheries Management Agreement (FMA) between the UK and the Bailiwick.
The States of Guernsey has challenged the legality of the decision.
The High Court has given permission for the judicial review to go ahead, with a hearing set for 11 July.
'Disagreement in interpretation'
The agreement was suspended by the UK Department for Environment, Food and Rural Affairs (Defra) and the Marine Management Organisation on 30 July.
At the same time the UK licences held by some Bailiwick vessels were suspended. This was temporarily lifted on 18 August, but the FMA remained suspended.
Guernsey's Policy Council said the reason for the suspension "relates to a disagreement in the interpretation of the agreement and the application of UK quota control measures on the Bailiwick fleet fishing in Bailiwick waters".
Defra has repeatedly said quotas play a "crucial role" in ensuring the sustainability of stocks and the long-term future of the fisheries industry and should be enforced in the Bailiwick.
The Policy Council said until the hearing had taken place it could not comment further.
Defra said it was aware of the review, but would not comment further.