Guernsey States department changes 'will not lead to job losses'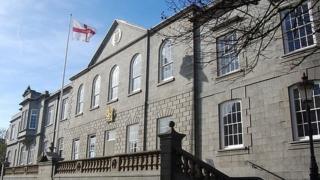 States of Guernsey bosses have said removing departments will not mean employing fewer staff, as they overhaul the organisation's structure.
The changes to the island's system of government will come into effect on 1 May.
They include moving from ministerial to committee government.
Chief executive of the States, Paul Whitfield, described the change of structure as a "realignment", not a reduction of staff.
Currently the island's government is made up of ten departments, three committees and a Policy Council, but they will be replaced by a new committee system.
The number of States deputies is also being reduced from 45 to 38, coming into effect at the 2016 general election on 27 April.
'Reducing overall costs'
The outgoing deputy chief minister, Allister Langlois, said the relationship between the centre of government and the committees that deliver services needed to improve.
"There has been considerable effort over the last term to reduce the overall cost base of the States," he said.
"There is no particular reason to believe that the States are significantly overstaffed in any area, and I realise that will not be a popular thing to say."
Mr Whitfield said that Guernsey had "a very lean public service in terms of the amount of people it employs".
The reforms are expected to save between £250,000 and £300,000 a year.
New structure of government from 1st May 2016
One senior committee: Policy and Resources
Six principal committees: Economic Development; Education, Sport & Culture; Employment & Social Security; Environment & Infrastructure; Health & Social Care; and Home Affairs
Five boards or authorities: Development & Planning Authority; Civil Contingencies Authority; Passenger Transport Licensing Authority; Overseas Aid & Development Commission; and States' Trading Supervisory Board
Scrutiny Management Committee
States Assembly and Constitution Committee