Passengers moved off Herm ferry after 'major' engine fail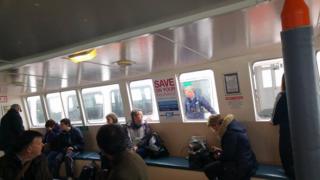 Passengers on the ferry to Herm island had to be moved on to another boat after a "major" engine fail on Friday afternoon.
Those on board had to be transferred on to the Trident VI, usually used for cruise ship visitors.
Trident V was towed back to Guernsey by the Harbours' boat, the Sarnia.
The boat company's managing director, Peter Wilcox, said a marine accidents investigation would be carried out into the incident.