Herm ferry from Guernsey abandoned after 'collision'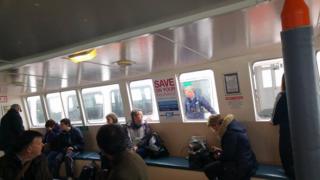 Passengers were forced to abandon a ferry mid-trip following a "collision", the managing director of the boat company has confirmed.
The incident had been attributed to a "major engine problem" after people travelling from Guernsey to Herm Island were moved to another boat last week.
Peter Wilcox said it was still unclear what the Trident V vessel had hit, but an investigation was under way to determine what had happened.
The skipper has been suspended.
The ferry is unlikely to resume service for at least another two weeks because engineers are waiting for a wider tidal range to get it out of the water and check it over, Mr Wilcox added.