Carbon emissions tax introduced in Guernsey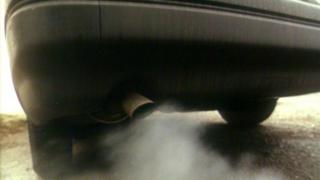 New and second-hand vehicles being registered in Guernsey for the first time are subject to a new tax from Sunday.
It is based on carbon dioxide emissions and could cost drivers as much as £690.
There is a higher rate of duty for vehicles that run on diesel fuel.
Vehicles adapted for use by islanders with disabilities are exempt from the new tax, as are those over 30-years-old and minibuses used by non-profit organisations.
The States of Guernsey voted in 2014 to spend £4m a year on measures to reduce car use.
But the tax has been called "a compromise" by motoring groups after the environment department had to scale back controversial plans aimed to improve air quality and cut congestion on the island's roads.
Petrol vehicles with a CO₂ figure below 110g/km and diesel vehicles with a CO₂ figure below 100g/km are zero rated and do not attract any duty.
Fully electric vehicles and motorcycles below 501cc are also zero rated as may certain hybrid vehicles be, depending on their CO₂ figure.
The duty is being applied as part of the normal vehicle registration process and for new vehicles is done through motor dealers.
It is charged in addition to a first registration fee of £40.