Condor Ferries boss vows to 'regain public trust'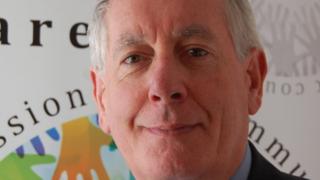 The new boss of an under-fire ferry firm says he is determined to regain public confidence and trust.
Channel Islands-based Condor Ferries has been heavily criticised for technical problems with its £50m fast ferry, introduced in March 2015.
Paul Luxon, who stood down as a Guernsey deputy and health minister on Saturday, said the firm was reviewing its fleet make-up and timetable.
He said it was a "lifeline" route which islanders had to be able to trust.
Mr Luxon said: "Condor has been around for 52 years, it had a very difficult 2015 and it knows that and I know that and those people who have had their travel plans disrupted know that.
"But I'm determined and I know the company is determined to regain that confidence and trust from all Channel Islanders."
He said he understood the importance of the lifeline link to the islands "isolated from our main market in the UK" and "why we need a reliable and consistent and good customer service ferry operation".
Mr Luxon said the purchase of the Liberation was part of a "refleeting" as vessels were "coming to the end of their natural life".
He said: "[The service is] a lifeline for us all to get on and off, tourism, to actually help our tourism economy in both islands, and then of course the normal commerce of business use and importing goods.
"All of the those things are so important to small islands it has to be got right, the fleet, the composition, the timetable."
Condor Liberation
27 March 2015 - First sailing from Poole after three months of sea trials
28 March - Suffered minor damage to protective belting while mooring in bad weather in St Peter Port
30 March - Sailing to Poole for repairs cancelled due to bad weather
3 April - Poor weather conditions mean essential welding work could not be carried out
6 April - Sailings from Guernsey to Jersey cancelled because of a recurring electrical fault in an engine
31 December - The ferry was out of service until the end of February after the vessel was damaged while moored in Poole Harbour
29 February 2016 - Three days of disruption caused by steering problems
16 March - Vessel detained by Maritime and Coastguard Agency after inspection found "substantial deficiencies"
19 March - Ferry was allowed to sail again after faults were fixed