Guernsey Liberation Day: Thousands turn out to mark the event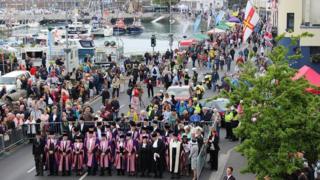 Thousands of islanders have turned out on the streets of Guernsey to celebrate the 71st anniversary of its liberation from Hitler's occupying forces.
It was the first Liberation Day for the island's new Lieutenant Governor, Vice Admiral Ian Corder.
He said: "To see the islands commemorate and remember those days is exciting and moving at the same time."
Those watching the liberation church service continued singing as the island was hit by a power cut.
The power cut hit the Channel Islands, causing BBC Radio Guernsey to go off air.
As the service carried on in the dark the Dean of Guernsey talked about a remarkable and glorious day when British Troops came ashore.
The Very Reverend Tim Barker, on his first Liberation Day, gave thanksgiving for "our continued freedom and self determination as a Crown Dependency".
Guernsey's Bailiff, Sir Richard Collas, said Liberation Day means something different to everyone but there were common themes of remembrance and celebration which unite the community.
He was recently given a notebook in which his grandmother recorded Red Cross messages sent to his father while she was in Guernsey.
Sir Richard said this brought home the significance of Liberation Day for him and his family.