Guernsey kerbside recycling future unclear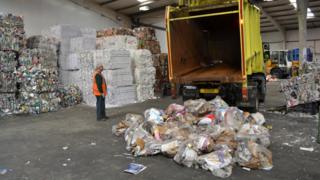 Government funding for Guernsey's kerbside recycling scheme has not been agreed beyond September.
The 10 parish authorities are responsible for the collections, with each paid a subsidy by the States.
On Monday Torteval became the third parish to vote to end the scheme if the subsidy is stopped.
Richard Evans, from the States Trading Assets division, said a business case to continue funding was nearly ready and would be submitted within weeks.
He said it was "absolutely our intention to continue [the scheme]".
The business case will be discussed by the Policy and Resources Committee.
Sue Aldwell, Torteval's junior constable, said: "We've had lots of communication... the problem's been we've had no detail.
"We have no idea of cost, we have no idea if we could even afford to do it and a decision had to be made."
The States subsidy and the bring banks, where recycling can be left, costs about £1m a year, Mr Evans said.
The scheme, which began in February 2014, was introduced as part of the States Waste Strategy - agreed in 2012 - in a bid to increase recycling rates, which are currently at just under 50% for household rubbish.