Guernsey States committee positions elected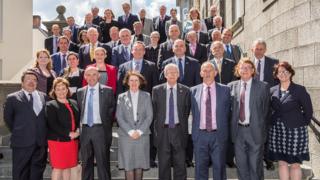 There was only one contested election as the memberships of the various Guernsey States boards and committees were decided.
Deputy Barry Paint was elected by a vote of 20-17 ahead of Deputy David de Lisle for the position of president of the Transport Licensing Authority.
The authority rules on applications to run air routes into Guernsey.
The members of the senior committee, the Policy and Resources Committee, were elected earlier this month.
Just three members were not elected to a committee or board - former treasury minister Charles Parkinson, who unsuccessfully stood for the senior president's role, and the two Alderney States representatives Louis Jean and Graham McKinley.
BBC News App users: Click here to see the full results
Economic Development Committee
Peter Ferbrache
President
Andrea Dudley-Owen
Jan Kuttelwascher
Jennifer Merrett
Joe Mooney
Education, Sport and Culture
Paul le Pelley
President
David De Lisle
Andrea Dudley-Owen
Marc Leadbeater
Carl Meerveld
Employment and Social Security
Michelle Le Clerc
President
Matt Fallaize
John Gollop
Shane Langlois
Emilie Yerby
Environment and Infrastructure
Barry Brehaut
President
Lindsay De Sausmarez
Mark Dorey
Sarah Hansmann-Rouxel
Shane Langlois
Health and Social Care
Heidi Soulsby
President
Joe Mooney
Rob Prow
Rhian Tooley
Emilie Yerby
Home Affairs
Mary Lowe
President
Richard Graham
Mark Leadbeater
Victoria Oliver
Rob Prow
Scrutiny Management Committee
Chris Green
President
Laurie Queripel
Peter Roffey
Development and Planning Authority
John Gollop
President
Victoria Oliver
Lester Queripel
Jeremy Smithies
Dawn Tindall
States' Assembly & Constitution Committee
Matt Fallaize
President
Lindsay de Sausmarez
Mark Dorey
Michelle Le Clerc
Peter Roffey
Transport Licensing Authority
Barry Paint
President
John Gollop
Carl Meerveld
Dawn Tindall
Emilie Yerby
States' Trading Supervisory Board
Dave Jones
President
Jeremy Smithies
Administrative Decisions Panel
Chris Green
Chairman
Douzenier Richard Heaume
Deputy Chairman