Euro 2016 England v Wales: Persuasive pupils allowed to watch match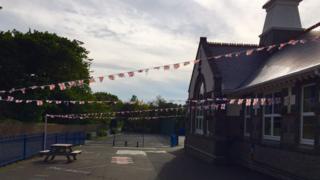 Two footy-mad primary school pupils convinced their head teacher to let them watch the England v Wales match - in return for a 50p donation.
Castel Primary School pupils Ben Sinkinson and Joe Bougourd, 10, pitched the idea to teacher Linda Paley.
She agreed after the persuasive pair suggested each child make a contribution to the school's swimming pool fund.
The boys have predicted a 2-1 win for England.
"We went to Mrs Paley and asked her if we could watch the first half for 50p," Ben said.
"It will be a massive game and it's the only England game in school time."
After their teachers agreed, the boys wrote a letter on official headed paper from the school - asking that children give a donation to the swimming pool fund if they want to watch the first half of the game.
The letter says pupils who do not want to watch the match can use the time for Euros "research, colouring or posters".
"We have asked Ms Paley and she has agreed to let Years 2-6 watch the first half of the England vs Wales match in Euro 2016 on Thursday 16th in the hall", Ben and Joe, who are England fans from Guernsey, wrote.
Joe's father, Simon, admitted he thought the boys would have little chance of success.
"But because of the way they spoke to the adults about it, instead of saying no, they said 'we'll think about it'... And lo and behold they said yes."
Mrs Paley said: "They presented a well-researched argument... After due consideration the staff agreed and children from Y2-6 have been given the option to watch the first half of the match or do some Euro related activities.
"Joyous and purposeful learning in action."