£2m flood protection plans unveiled for harbour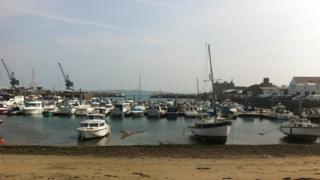 Plans costing £2m to protect an island harbour from flooding and pollution have been unveiled.
The investment from Guernsey Water is part of a 10 year business plan.
Work has already begun on building a drainage system designed to protect the local environment and reduce the risk of floods.
Capital delivery manager at the water utility, Mark Walker, said the project was "complex".
He said the quality of bathing water near to St Sampson's harbour was being affected by very heavy rainfall combining with sewer overflows.
Mr Walker claimed parts of the north of Guernsey were prone to flooding during heavy rainfall which needed to be resolved.
Customers will not see their bills go up as a result of the investment, according to the utility.
"The whole business plan has been largely put together so it is affordable", Mr Walker said.
"Bills will not rise more than we would expect for a cost of living increase."
The project
Phase 1 due to be completed in July 2016: extending and upgrading a main to enable the station to handle greater flows and reduce the risk of pollution
Phase 2 due to start in autumn 2016: replace a sewer to increase its size and storage capacity
Phase 3 due to take place in spring 2017: upgrade the St Sampson Harbour pumping station
Phase 4 due to start in summer 2017: build a new upgraded gravity sewer