Guernsey hotel destroyed in Sunday morning fire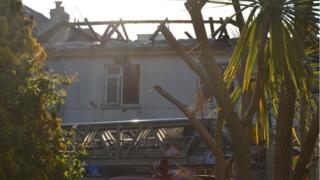 Parts of the old St Martins Hotel in Guernsey were destroyed in a major fire early on Sunday.
The Guernsey Fire and Rescue Service said it took crews several hours to get the blaze under control.
Incident commander Pierre Laine said conditions in the derelict building were too dangerous for them to enter.
Roads in the area were closed while officers tackled the fire, but no neighbouring properties had to be evacuated.
Mr Laine said the circumstances of the fire would need to be investigated but he could not rule out suspicious circumstances.
He said: "It was fairly intense in the roof area, in the first floor and on the ground floor but because of the condition of the building I wasn't prepared to commit crews into the building.
"We have been trying to do the fire fighting from outside."