Sark Seigneur's funeral draws hundreds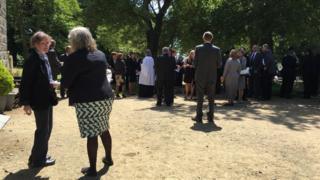 More tributes have been paid to the Seigneur of Sark Michael Beaumont as his funeral was held in the island.
Hundreds of people gathered at St Peter's Church for the service.
It followed a special sitting of Chief Pleas attended by Lieutenant Governor Vice Adm Sir Ian Corder and Guernsey's Bailiff Sir Richard Collas.
The 88-year-old Seigneur had been an aircraft engineer and inherited the title from his grandmother, the Dame de Sark, Sibyl Hathaway, in 1974.
His son, Maj Christopher Beaumont, led the tributes after he was sworn in as the island's 23rd Seigneur.
Lt Col Reg Guille, the president of Chief Pleas, described Michael Beaumont as "a good and constant friend" to many people on and off Sark.
Reverend Julia Dallen said as Seigneur and carer for his wife Diana he had showed "honour and a great sense of duty as well as great love and care".