Gannet returns from 1,700-mile fishing trip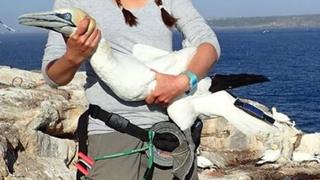 A gannet has returned from a possible record-breaking fishing trip covering nearly 1,700 miles in less than a week.
The seabird, named Cosmo by conservationists at its home in Alderney, made the foraging trip up the English Channel, across the North Sea and into Scandinavian waters and back.
It is believed to be the longest recorded journey for the species.
The bird was tracked with a tag using the 3G mobile network.
Cosmo, a northern gannet, covered around 1,680 miles - well above the usual 200 to 300 miles gannets travel on fishing trips according to researchers at the Alderney Wildlife Trust.
Gannets
1,680
Distance in miles travelled by a gannet from Alderney to Scandinavia and back
200-300 Miles usually travelled by gannets on a foraging trip

3 Species of gannet: the northern gannet, the cape gannet and the Australasian gannet

8,500 breeding pairs of northern gannets in Alderney - around 2% of the world's population
Alderney Wildlife Trust
Claire Thorpe, from the trust, said: "This is very exciting news for our track-a-gannet project and the information will be hugely important for the conservation of our wonderful seabirds.
"Data like this is really important because it shows that we need international collaborative effort to protect our seabird species and monitor developments in the Channel and beyond."
The track-a-gannet scheme was prompted by the rise in renewable energy projects planned for the Channel, with concerns that schemes such as the Rampion wind farm off the coast of Brighton could have a direct impact on birds like gannets.
It is a collaboration with the British Trust for Ornithology and the University of Liverpool.
Around 8,500 breeding pairs of northern gannets, around 2% of the world's population, nest in two colonies on rocky offshore islets in Alderney, at the southerly end of the bird's range.
The largest colony of the species is on the Bass Rock in the Firth of Forth in Scotland.