Seigneur 'disappointed' at criticism of Sark government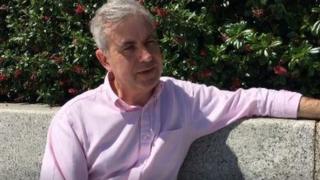 The new Seigneur of Sark says he is "disappointed" with criticism of the island's system of government.
Major Christopher Beaumont inherited the title from his father, Michael, who died in July at the age of 88.
Michael Beaumont witnessed fundamental changes to Sark's feudal laws with many of the Seigneur's ancient rights and duties being revoked.
His son has said he is fully supportive of Sark's government, Chief Pleas.
Government critics argue the system is still "undemocratic", but Major Beaumont told the BBC: "There's a perfectly good, working Chief Pleas and it gets my full support."
The Barclay Brothers and its property company in the island, Sark Estate Management, are long-term opponents of the political establishment.
A campaign group calling for electoral reform on the island took its case to the European Court of Human Rights (ECHR) in 2015 but the case was deemed invalid.
Major Beaumont said: "I do view those that are critical of the system, in particular of my role, are just not acknowledging the truth.
"I [also] don't understand the economics of the way they're going about doing what they do with their businesses."
Four Sark hotels owned by the Barclay brothers were closed in 2014-15, with the company blaming the lack of a customs post on Sark to access the French market.
The Sark Newspaper, which has close ties to Sark Estate Management, commented on the new Seigneur: "He has inherited power and privilege unequalled by crowned heads and elected leaders across the free world. How does he intend to exercise it?"